Following extensive reviews, discussions and meetings with the Environment Agency (EA) and the London Legacy Development Committee (LLDC) it was agreed that the existing shipping containers that were on-site could be used to offset the floodplain storage from the central cores of the building. The proposed building took up most of the site, so in order to offset any additional loss in flood plain storage and meet the EA's requirements, the ground floor was allowed to flood. This was difficult as the LLDC would only permit the development if active frontages were provided at the ground floor.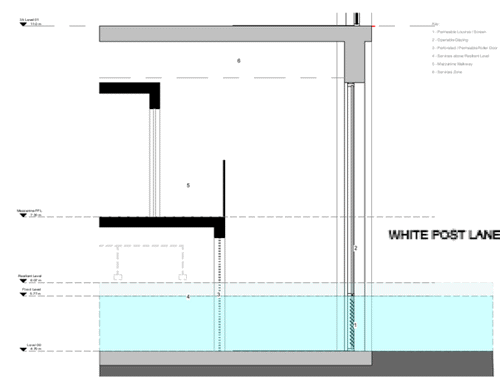 The team worked to agree that the ground floor would essentially be an outdoor space with a semi-solid wall enclosing a number of container units that would be for flexible work space, retail, café and restaurant uses. This proposal met the EA flood compensation requirements and the LLDC's active frontage requirements. This was achieved by proposing a permeable louvre/screen at the base of the external wall that would allow water to enter the building. For the individual units internally, this was achieved by implementing permeable roller doors.

Despite previous applications at this site being rejected, the team's efforts meant that ultimately the development was granted planning permission. As the impacts of climate change are felt more widely, development in flood zones will become more common. This project highlights the importance of engaging with the relevant authorities early in the planning process and being open to flood resistance and resilience measures that will become increasingly key to development in the future.
For more information in relation to this project or assistance with a similar scheme, please contact slecocq@mayerbrown.co.uk or call on 01483 750508