The Homes for Lambeth Small Projects Programme
Mayer Brown have provided transport consultancy services to Homes for Lambeth on their Small Projects programme to deliver just under 400 residential units across the London Borough of Lambeth through a combination of affordable and market sale housing. The commission included the reprovision of community uses on some sites.
Our role was to assist each project team in scheme layout design and provide input into access and parking for residents and visitors. In addition, we helped to develop a strategy for delivery and servicing access across the respective sites. All the developments are car free with the exception of disabled persons car parking to meet London Plan requirements.
We then prepared a suite of transport reports to support respective planning applications for each site. Reporting included Transport Assessments / Statements, Travel Plans and Delivery & Servicing Management Plans, in addition to post application technical reports as a result of engagement with Transport Lambeth, as Highway Authority.
The Small Projects programme comprised a portfolio of 10 sites, as follows:
Land at Hydethorpe Road – 14 residential units
Patmos Lodge, Cancell Road – 20 residential units
Land at Angel Town Boiler House – 18 residential units
Coral Day Nursey, Wootton Street – 36 residential units plus community use building
Carmelita Centre, Vauxhall Walk – 29 residential units above a new community use building. This included a separate planning application for a temporary community facility adjacent to the site
Land at Orsett Street – 38 residential units
Roman Rise, Central Hill Estate – 31 residential units
Fenwick Place, Fenwick Estate – 27 residential units
Trinity Rise – 20 residential units plus community use building
Land at Denby Court and 109 Lambeth Walk – 141 residential units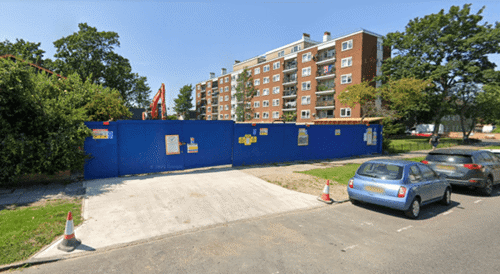 [image of construction work at Hydethorpe Rd,  from Google Street View https://goo.gl/maps/rXhtLGSPjDCAC4ib7]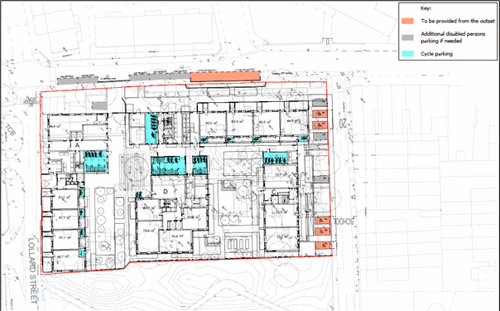 [Image of parking strategy at Denby Court]