The UK's population is getting older. The latest government figures show that in 2016, 18% of people were aged 65 and over, and 2.4% were aged 85 and over. In 1996 people aged 65 and over made up 15.9% of the population, while in 1976 the figure was 14.2%.
Government statistics also look at something called OADR – old age dependency ratio. This is the number of people over 65 years old for every 1,000 people aged between 16 and 64 years old. In 2016 the UK's OADR was 285.
The OADR is used for measuring and understanding changes to the balance in population. This can then be applied to transport planning as well as urban design and regeneration to ensure that development meets the needs of different age groups.
Let's have a look at some planning implications for urban renewal, including housing and transport, when it comes to these demographic trends.
Urban planning for an aging population
Care homes
An aging population indicates an increasing demand for care homes. In 2015 there were 500,000 care home places in the UK. However, according to a paper published in The Lancet, that demand will grow by more than 75% over the next twenty years.
Care home buildings range from converted houses to large, purpose built developments. Historically, many care homes have been situated in converted suburban and rural housing that is no longer desirable for family living.
As the UK population becomes increasingly urbanised, however, it's likely that there will be greater demand for care homes to be situated in more central locations. This will make it easier for family and friends to visit, as well as making the homes more convenient and attractive to staff that work in them.
Central locations may also be preferable for residents who are still able to enjoy some degree of an active life. A central location means that it is more practical for care home residents to be taken out to a café or shops.
Urban regeneration projects need to include this growing demand as part of the overall housing and services mix. Careful thought must be given to integrating these new central care homes into overall social regeneration, ensuring that they are situated with appropriate access to services and transport for residents and staff.
Close-care and sheltered developments
Close-care is a fairly new way of living. It's made up of bungalows and flats, designed for independent living, with some element of support. Close-care housing is situated on care home sites and residents can purchase care services from the care home, depending on their individual need. Other basic services, such as cleaning, will be automatically included in a service charge.
Close-care is gaining popularity. It's less restrictive and institutional than a care home and enables those requiring some elements of care to live in a home of their own, surrounded by familiar treasures, furniture and household items. Elderly couples can stay living together, sharing things in the way they always have.
Care home development will increasingly include close-care accommodation and in planning terms this may mean that larger sites are required in central locations or suburban locations with good access to shops and services. Creative and innovative planning is required to make best use of space.
Sheltered housing does not have the built-in care element of close-care accommodation. It usually consists of a block of flats or a small mixed accommodation development. Residents live independently, but often have the use of communal facilities such as a laundry, lounge and gardens, should they want to use them. Although there is no specific care element provided, there will be a resident warden and a 24-hour alarm system for residents' emergencies.
As with care homes and close-care, the aging population means that there is a growing need for sheltered accommodation, which should form part of many urban regeneration projects.
Lifetime Homes Standards
The accommodation needs of an aging population is something that can be anticipated and which need not mean moving to accommodation created specifically for the needs of older people.
The Lifetime Homes Standard is a series of sixteen design criteria intended to make homes more easily adaptable for lifetime use at minimal cost. In this way, later needs are catered for as part of the original development, enabling people to stay in their own homes longer.
The criteria include standards for features such as:
Approach to all entrances
Communal stairs and lifts
Entrance level WC and shower drainage
Potential for fitting of hoists and bedroom / bathroom relationship
Location of service controls
The concept was initially developed in 1991 by the Joseph Rowntree Foundation and Habinteg Housing Association
Part M of the Building Regulations includes similar requirements, although these are not a comprehensive as the Lifetime Homes Standards.
Transport planning
Driving
There are more than 4 million drivers aged over 70 in the UK. Research shows that people over the age of 70 start to become more likely to have accidents than might have been the case ten or twenty years earlier. Despite this increased risk, the RAC has stated that it's important that older people continue to drive as long as they are able, in order to offset the risk of isolation, depression and difficulty in accessing goods and services. It's a view many over 70s share.
Transport planning can be used to reduce driving risks, through measures such as:
Well defined and maintained signs
Ensuring forward and junction visibility is unobstructed by shadows or poor lighting
Reflective paint on kerbs at traffic calming areas
Sufficient length of merge / acceleration lanes
Dedicated right turn phase at signal junctions
Sufficient visibility of circulatory carriageway at roundabouts
Public transport
Many active older people will be unable, or choose, not to drive. It is increasingly important that Transport planning consultants and other professionals recognise that an aging population demands an efficient, accessible public transport system, and the urban and rural infrastructures to accommodate it. Effective public transport planning that delivers to the requirements of an aging population will also deliver to the requirements of other sectors of the community. A mixed public transport system is best suited to varying needs, and the demands of different sectors of the population at different times of day.
Buses, including dial-a-ride minibuses, are particularly useful to older people, as are underground and overground trains. Transport systems and the urban landscape need to enable all forms of transport to be accessed by wheelchair users and those with a range of mobility issues. Similarly, transport modelling and design should be mindful of those with poor eyesight and hearing when it comes to signage and access points.
Elderly pedestrians
Urban planning professionals need to be aware of the aging population in planning urban spaces and infrastructure for pedestrians. Accessible shops and services are essential to a happy and independent later life. These considerations can also contribute to the kind of wellbeing that enables older people to live without extensive care. In this way, the benefits are twofold.
Simple infrastructure design, such as dropped kerbs for wheelchair users, are an obvious example of how the urban landscape can be improved for an aging population. Transport and urban planning that includes plenty of pedestrian crossings will also create a safer and reassuring environment for older pedestrians. Factors, such as pelican crossings that allow time for someone walking more slowly to cross a road can be easy to implement, as are visual alerts (lights) and auditory alerts (for example a beeping sound) for when it's safe to cross.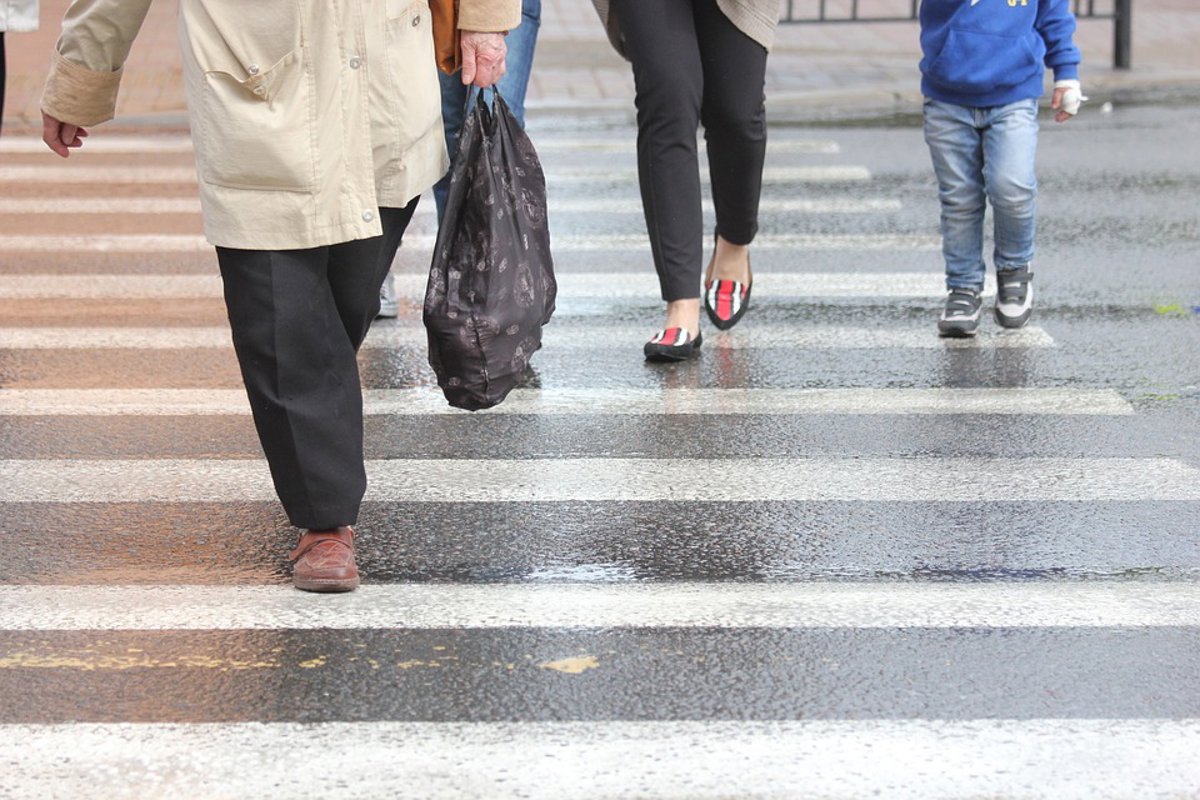 We can expect to see the provision of specialist housing, whether it be care homes, sheltered housing or close-care, becoming a planning condition of some new developments in the future.
Developers should be aware that developments that can effectively integrate residential accommodation with shops, services and public transport links may result in a winning design for an aging population, and will also have tremendous appeal to other demographics, i.e. young families or time-pressed professionals.
Similarly, transport planning that makes life easier for an aging population will have numerous benefits across the community. It follows that transport planning and urban regeneration for an aging population can deliver the kind of built environments that we all want to live in.