It is suggested that traffic congestion is on the rise in the UK and it's going to get worse.
For the 12-month period ending March 2016, average speed on local A roads had decreased by 2.5%.
For the same 12-month period, average delay increased 4.2%.
Add to this the latest DfT (Department for Transport) forecast for UK traffic growth: a minimum 19% growth in total miles driven by 2040, from a base year of 2010.
If you support this view then action is needed to reduce congestion on British roads, but how can this be achieved without building more roads?
The options for action available are a combination of carrot, stick and new approaches to the way we live, work, and travel.
Discouraging use of motor vehicles
The most obvious method for discouraging car use is by financial pressure through measures such as congestion charging.
Singapore's Electronic Road Pricing Scheme is a sophisticated version of this, charging variable prices for driving within central areas throughout the day. London has a more basic, fixed-charge congestion zone. In theory, GPS could be used to charge drivers throughout the country on a per-mile basis, depending on location and time of day, but such ideas often meet strong public resistance.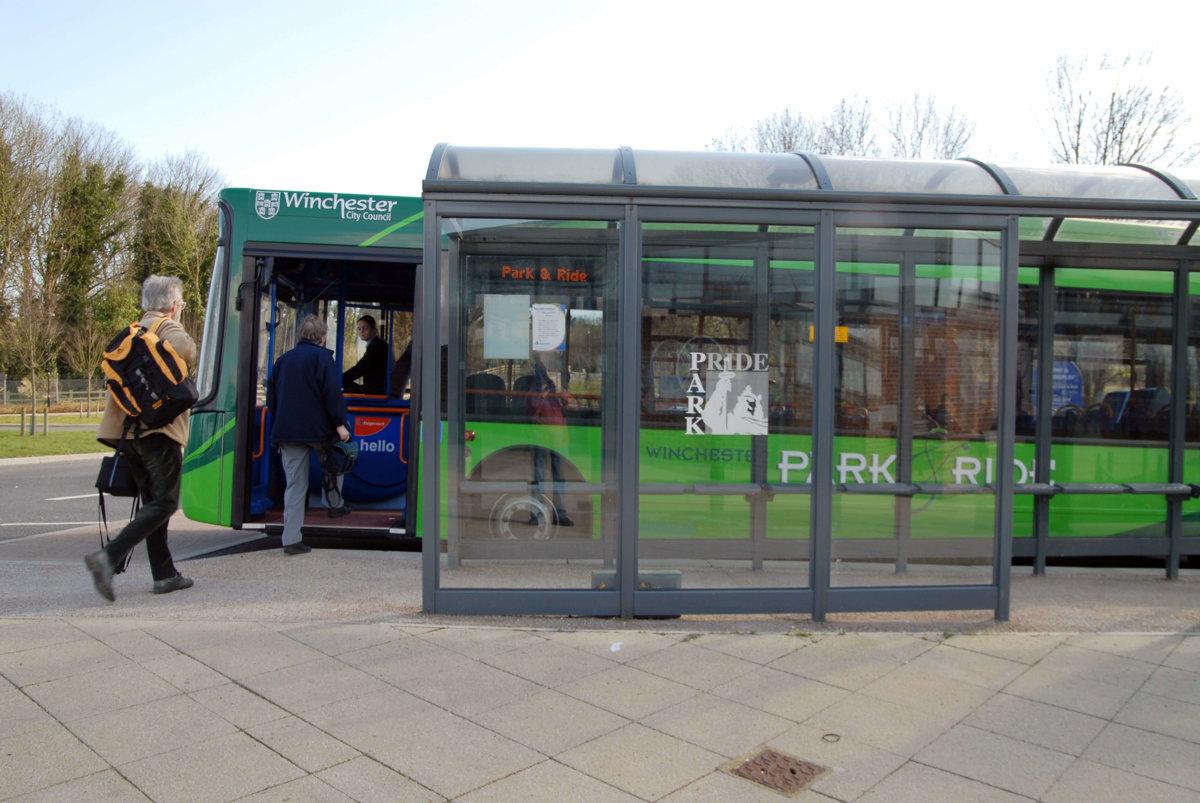 What are the alternatives to cars?
Working from home
Employees working one or more days a week from home are taken out of the commuting figures altogether. What's the incentive for employers? Flexi-working is considered a benefit by most employees and is a valuable part of an employment package. It can also help make businesses more efficient through increased productivity.
Walking and cycling
Walking and cycling require a relatively small investment for infrastructure, while improving public health and creating zero air pollution. In London, 35% of car journeys by local residents are less than 2km in distance, while 67% are less than 5km – distances which can easily be walked or cycled. Ways to encourage walking and cycling include:
Cycle parking provision
Bike-share bicycles
Showers at workplaces
Financial or other benefits to employees who choose to have an active commute
Park and ride
Park-and-ride services at the edge of town effectively turn motorists into public transport users within urban areas, thus eliminating many potential car trips where congestion and pollution is worst.
Public transport
Public transport must to be a preferable alternative to using a private car in terms of cost, efficiency and comfort, if it is to be encouraged.
What about commercial traffic?
Light goods vehicles are a major cause of road traffic growth. The DfT forecasts growth of between 42% and 115% for these vehicles by 2040 compared to 2010. This is in large part owing to online shopping and food deliveries. Options to limit this growth include using information technology to optimise delivery routing, and using cargo bikes in urban areas for delivering mail, packages and for carrying tradesman's tools.
Optimising transport networks
Optimising transport networks is all about using existing roads and infrastructure more efficiently. Optimisation can be achieved through things like flexible working hours, which spread the load of rush hours. The rush hour crush can be further broken down through travel-time based public transport congestion charges, to discourage non-essential travel at peak times.
Singapore has trialled a method that is based on encouragement rather than discouragement. Travellers taking the metro and arriving in the business district before 7.45am travel for free. The resulting 7% drop in peak hour travel means that the peak:non-peak passenger ratio on the metro has dropped from 2.7 to 2.1, thereby easing overcrowding and improving journey times for everyone.
Encouraging more efficient use of public transport in this way has a double effect. It impacts on roads too, as drivers are more inclined to leave the car at home when public transport offers an alternative that is both cheap and efficient.
Big-data travel
The optimisation of transport networks is becoming increasingly effective, thanks to the rapid emergence of open big-data and the use of the smartphones. Smartphones, navigation units, smart travel cards (such as Oyster), and various other types of sensors (e.g. cameras and inductive loops in roads) are offering an immense amount of travel data, which is logged by private companies and city transport authorities.
Real-time traffic data not only helps car drivers to find the shortest route, but also helps to make bus routes more efficient. Knowing traveller origin and destination points throughout the day enables better routing and capacity optimisation for bus and train services.
If this anonymised user data is made publically available for free, then smartphone app developers can make excellent travel planning apps like Citymapper, which amalgamates traffic information, bus and rail timetable information, direct transport costs, and even bike share availability, to show the end user the predicted travel time and cost for each mode of transport. Another example is that of the fitness app Strava, where users who cycle can provide anonymous data to the developer, which shows the routes they cycle and the travel times. This, in-turn, can be sold to city transport authorities, who can use it to understand the preferred safe and convenient routes for cyclists, in much more detail and for much less money than a manual cyclist count would allow.
What next?
It's clear that the opportunities to reduce congestion are available. It's now up to all of us to play a part in making the most of those opportunities. That includes individual travellers and commuters, the government, employers, local authorities and transport operators. Increasingly, private-sector companies are also playing a key role.
Change is down to choice – choice of individuals, choice of investors – but ultimately these choices will have a huge impact. Car congestion will continue to grow in car-friendly cities, while cities with attractive alternatives will be more efficient, less stressful and healthier places in which to live.